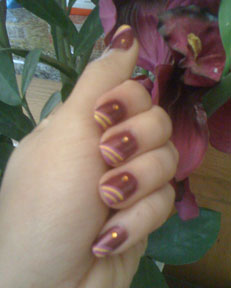 Do it yourself nail designs are a breeze and with a little of practice and techniques you can achieve gorgeous looking nails. This is the first set of designs call Purple Slush. The design is simple and elegant. Choosing the color and design of your nails are important, so choose colors that you like.
It's important to use a brush with very thin tip to paint the outline of your nails.
Try painting one nail at a time, once you get the technique down move on to the next.
See below for a few photos of the Purple Slush.